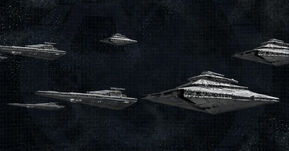 The Imperial Navy is the forward command of the Military. With the role of Space and Sea combat, as well as orbital assistance, they are an important card in the playing field. With higher standards than the Admiral of Fleet, the Navy requires its seamen to be professional and comprehensive. With the responsibility of being one of the highly needed crew members aboard the
Midnight Avenger V
, you will be looked to in times of need.
Known Warships
Edit
Known Warships of the Grand Imperial Order.
Midnight Avenger - Emperor Kwagar Ocata
Black Raven - Hector Dreadeaston
Black Thunder - William Badhawk
Black Titan - Thomas Swordbeard
Blue Destroyer - Jack Badfish
Crest Breaker - Tom Cresthawk
Dark Blade - Jacksharkskull
Dark Blade Destroyer - Peter Goldbeard
Fighting Phoenix -  Ben Warloather
Golden Avenger - Master Tito
Golden Bull - James Swordtimbers
Golden Dragon - Matthew Cannonsteel
Golden Dragon II - Jack Cannonskull
Golden Eagle - John O'Eagle
Golden Guardian - Jack Sacredgun
Golden Shark - Jack Treasurehound
Golden Raven - Goldtimbers
Golden Raptor - David Warhawk
Golden Lion - Admeral Qswas
Lighting Eagle - Henry Brawlpratt
Lightning Shark - Eric Machawk
Midnight Raider - Johnny Sea Slasher
Morning Rebel - Roger Mcbellows
Outlaw General - Gunwrecker
Red Fox - Jack Squidhazzard
Riptide Trident - Matthew Raidgrim
Sea Falcon - Black Jack
Sea Lion - Eric Machawk
Sea Star - Liam Shooter
Sea Warrior - Christopher Ironshot
Shadow Dragon - Sam Dutchmann
Silver King - Balkes (Blakes)
Silver Navigator - Noonrider
Headhunter Thunder - Edgar Wildrat
Noble Titan - Crossbones
Shadow - Roger Warskull
White Enchantress - Jeremiah Mcmorrigan
Wave Star - John Sunspinner
Ad blocker interference detected!
Wikia is a free-to-use site that makes money from advertising. We have a modified experience for viewers using ad blockers

Wikia is not accessible if you've made further modifications. Remove the custom ad blocker rule(s) and the page will load as expected.